Create a Certified Wildlife Habitat
The North American bird population has decreased by 2.9 billion breeding adults, a net loss of 29% over the last half-century.* Scientists have identified habitat loss as the biggest reason for the decline. Wild Birds Unlimited is proud to be the Champion for the National Wildlife Federation Certified Wildlife Habitat program, whose goal is to inspire everyone to create a haven for wildlife in their yard.
To explain more about how it works, check out the video below with our Founder, Jim Carpenter and Master Naturalist, David Mizejewski!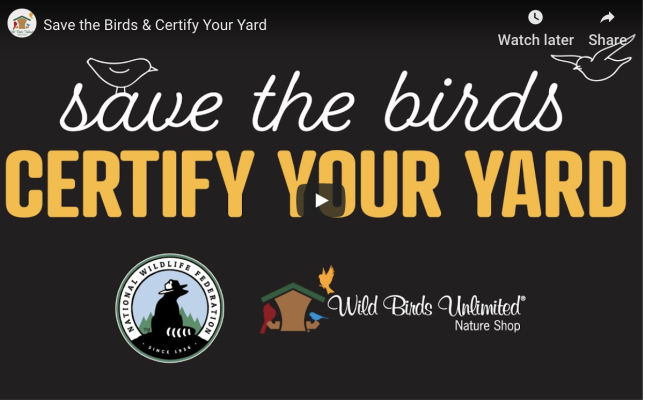 Visit the National Wildlife Federation (NWF) site to learn more about creating a Certified Wildlife Habitat. There is a small application fee that will help the NWF in their efforts to protect wildlife and habitats. You will receive a certificate and have an opportunity to buy a sign or plaque to display in your habitat.
Creating a wildlife habitat is fun, rewarding and makes a big difference. It's easier than you might think. Here is what your wildlife habitat should include:
Food: Native plants provide food eaten by a variety of wildlife. Feeders can supplement natural food sources.

Water: All animals need water to survive, and some need it for bathing or breeding, as well.

Cover: Wildlife need places to take shelter from bad weather and places to hide from predators or hunt for prey.

Places to Raise Young: Wildlife need resources to reproduce, and to protect and nourish their young.

Sustainable Practices: Maintain your yard or garden in natural ways to ensure soil, air, and water stay healthy and clean.